Houston Concrete Paving - New Construction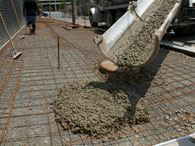 Corestone Paving is a Houston-based construction company that utilizes concrete on a daily basis.  As concrete professionals we provide concrete paving to build sidewalks, ADA compliant walking ramps, and parking lots for businesses.  We also use concrete when building new driveways, or when constructing a slab for a new home or foundation for a new office building.  With our experience and the many wonderful attributes of concrete, our professionals have built some of the most elegant shopping centers in Houston.
At Corestone Paving, we have over 30 years of experience serving the Greater Houston area by providing the best concrete solutions in the business.   From churches and schools to government buildings and industrial facilities, our staff has the knowledge and training to get the job done right every time. When you choose us to handle a new construction project, you are working with a company that understands your time is money, and prides itself on delivering efficient, on time performance with quick response times.
If you are in Houston and need a concrete specialist, you cannot go wrong choosing Corestone Paving.   To learn more about our services and the quality of our craftsmanship, give us a call at 281-651-0616, or complete our website form.